NFTs have dominated the art market agenda for quite some time - the first NFT was minted back in 2014, but the first major auction house sale did not happen up until March 2021. Beeple's 'Everydays: The First 5000 days' sold at Christie's for an astonishing $69.3 million, making him the third most expensive artist in the world sold at auction, following Jeff Koons ($91m) and David Hockney ($90m). This sigular event has changed the art world, and will certainly be a remembered as a significant chapter in art history as it solidified the fate of NFTs as an art market asset. Since that landmark sale, many artists have started releasing their own NFTs, even if they had not previously associated themselves with the digital side of art. NFT platforms such as Nifty gateway, OpenSea and Foundation have seen a dramatic increase in users and general interest of the public. Galleries and global auction houses have started branching out into NFTs, curating in-person exhibitions consisting entirely of NFTs and creating new ways to use the NFT technology.
Beeple, Everydays: The First 5000 Days, NFT
The Beeple sale was also the first auction sale to be fulfilled entirely with cryptocurrency. Now, many galleries and major auction houses have an option of crypto payment for the items they sell, particularly if it is an NFT sale. The pool of cryptocurrency investors has also grown dramatically with the rise of NFTs. Global adoption of cryptocurrencies has taken off at an astonishing rate - 881% growth in the last year[i] alone - with a significant impact powered by institutional investment from North America, Western Europe and Easter Asia. So individuals who began investing in crypto I the early years have already accumulated significant wealth over the past decade. However, the major downside of cryptocurrencies, especially the most common ones, like Bitcoin and Ether, is their volatility. Although they have been on an accumulated rise for the past two years, they are known for major unpredictable downfalls. Due to this volatility, investors have been looking to diversify their portfolios by acquiring goods that are purchasable with cryptocurrency.
NFTs are among one of potential investments that could be suitable for the diversification of a portfolio, a development which in turn led to a significant development of digital platforms of traditional institutions to integrate NFTs onto the market. One major example is the launch of Sotheby's Metaverse - a platform dedicated exclusively to NFTs that runs parallel to Sotheby's traditional website and includes a selection of NFT artworks as well as 'collectables' catering to various types of NFT collectors. Such a bold move towards opening the art market to more niche and unexplored types of art, from a major stakeholder like Sotheby's, gives collectors increased confidence and reassurance about the future of NFTs and their potential routes of development.
The world of cryptocurrencies opens an entirely new approach to the art market and how it can operate. The safety of blockchain technology offers a variety of uses for the art market. For example, the use of blockchain for provenance tracking is one of the biggest developments on the market. Many contemporary artists are looking into ways of supplementing their physical artworks with a Certificate of Authenticity in an NFT form. One of Neon's artists, Josh Rowell, is currently working on incorporating this concept into his artworks. He says:
"Traditionally printed certificates on paper can only be identified by the people who issued them, certificates on a blockchain contain all of the links in the chain within them, including essential provenance, change of ownership and other important aspects."
Such an approach will simplify the process of resolving issues of provenance, preventing speculation and art crime in the sector. Although various issues are surrounding the use of blockchain in conjunction with the physical world, as the technology evolves, becomes more secure and regulated, the art world will start relying on it a lot more. Researchers say that the use of blockchain technology will become increasingly more accessible and widely accepted, especially as paper archives are being digitalised[ii]. A move towards accessing all the necessary information about an artwork in a digital format will increase the reliability and transparency within the art market – two aspects that are often at the centre of debate in the art world.
Some artists go even further in developing the use of NFTs alongside their physical practice. Neon's Hugo Lami is working on developing NFTs which will be sold alongside the physical works, but not just as COAs, that are used purely for information purposes, but also as a supplemental piece to the physical work of art. NFT technology allows the creator to modify the original code of the NFT, allowing the artwork to transform. A good example of this is an NFT by terra0, called 'Two Degrees', which will self-destruct if the global warming temperature exceeds 2C. Thus, even though the artwork was sold at a Sotheby's sale back in June for $37,800, the NFT might self-destruct some time in the future regardless of who owns it. Hugo Lami's concept is different, but also involves a potential transformation of the NFT piece post-sale. Hugo states:
"An NFT in my practice is not just a piece of digital information. For me, it is a way of interacting with the collector/viewer without an intermediary. In the sense that the digital artwork can keep updating if I choose to add something to it. The physical painting and/or sculpture that comes with the NFT will not change but its digital version has no limitations, in this sense, it can evolve along with the technologies and with my practice through time."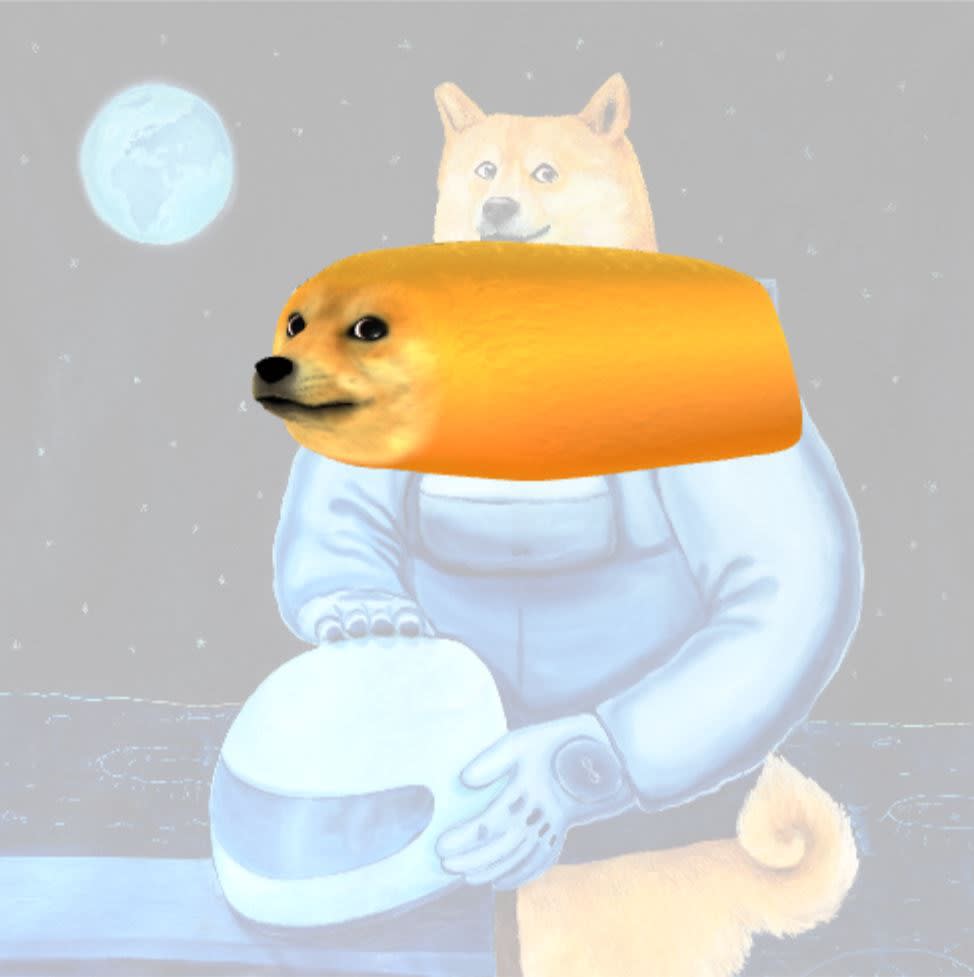 Hugo Lami, Doge on the Moone, 2021, NFT (Copyright of Neon Gallery)
Thus, Hugo creates a unique relationship with the collector who buys his work. The journey does not stop once the piece is sold and they put his work in their house. Hugo strives for a meaningful connection that will allow him to interact with the collector as his artistic practice develops. Hugo's interest in developing technologies and what they can do for his artistic practice enables him to merge innovation with his passion. His search for new meanings of his art, which is aided by the use of technology, makes his practice truly unique.
---
[i] Chainalysis, blog.chainalysis.com/reports/2021-global-crypto-adoption-index
[ii] A Green et al., 'Using Blockchain to Engender Trust in Public Digital Archive', iPRES 2018 15th International Conference on Digital Preservation, Sep 2018, Boston, USA