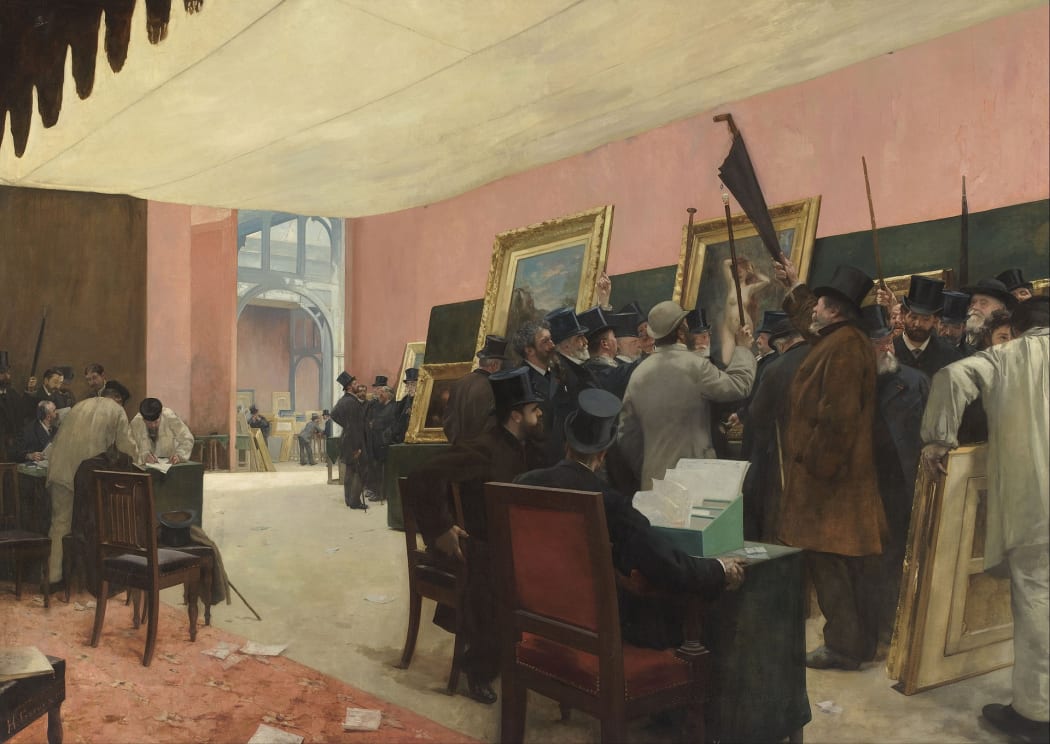 What was known as the social salon had particular prevalence and importance during the 18th century in Paris, they were frequented by members of the haute bourgeoisie and of noble status. Other than their place in society, guests were characterised by their education, and their knowledge of politics and current affairs. These designated spaces for lecturing and debate provided the opportunity for ideas and opinions to be introduced and discussed, this was additionally important in the distribution of such opinions in wider society. Though salons were not the original source of revolutionary ideas, they were important in circulating and discussing issues regarding the political climate of the time.
Although the salons were almost exclusively attended by men, they were importantly conducted by women. These women were known as salonnières, they curated the guest list and controlled the agenda and atmosphere of the event. At the time, women were perceived as superior judges of taste as they did not receive formal education - this meant a woman's intuition was unaffected and more natural than a man's. Though this was somewhat of a complimentary opinion attributed to women, society at the time was still incredibly steeped in misogyny. The slither of opportunity the role of salonnière gave to women meant a position of control and respect in the climate of social politics. Notable salonnières of the time include Madame Geoffrin who invited the most influential foreigners that visited the city. Madame Theresa Tallien was another salonnière who was known for her eccentric sociability and experimental and controversial style.
The influential presence of women throughout history is a conversation which is becoming increasingly prevalent - finally, the narrative of female empowerment is being advocated for. A brilliant example of a contemporary promoter of femininity is Anne von Freyburg, a new artist here at TSIVRIKOS SHAKE. Freyburg's work focuses on a stylised idea around feminine beauty, she uses textiles and constructed techniques that evoke a bodily presence. Through her work, Freyburg attempts to raise questions about taste, femininity, and the constructs of female identity. Artists Simona Sharafudinov and Corey Lamb are painters who also create works that forefront femininity and bodily forms. With their individual practices, they manage to draw out sensitive and poignant narratives about the human experience with their works.
Anne von Freyburg, Untitled (After Fragonard), 2021
The salon also existed as a space for art, the most prominent of the time was known as the Paris Salon. The importance of the Paris Salon resided in its absolute authority in dictating what art and artists were considered to be of good quality and taste. The salon was juried and conducted by the Académie des Beaux-Arts whose traditional values extended to their expectations of exhibiting artists. Historical and religious content was greatly esteemed along with subdued colours and fine details.
Whilst the renowned artists of the Paris Salon had an immense talent for composition and technique, the constraints and conservatism associated with the Salon frustrated many artists whose work did not comply with traditional expectations. In 1863, this frustration culminated in a protest led by many of the artists who had been rejected that year. To appease the flood of complaints, the Emperor Napoleon III created the Salon des Réfuses (salon of rejects) which exhibited all applicants who were rejected from the official salon. The salon was characterised by artists who were interested in painting contemporary life with brighter colours and relaxed technique. Over the years, artists such as Edouard Manet, Paul Cézanne, Paul Gaugin, Henri de Toulouse-Lautrec, Camille Pissarro, Pierre Bonnard and Henri Matisse featured at the Salon des Réfuses.
Edouard Manet caused a stir with the submission of his painting, Déjeuner sur l'Herbe. The canvas was dedicated to a colloquial scene and disregarded any allegorical context; he depicted lounging, naked women picnicking and bathing alongside clothed men. In this way, Manet and his revolutionary contemporaries acted as flâneures, observing, celebrating and documenting moments of everyday life. Geoff Uglow, one of the artists here at TSIVRIKOS SHAKE, truly embodies this spirit and appreciation for life. His use of colour and texture in his painting technique capture the essence of nature and life itself, the tangible passion and appreciation for the surrounding world reflects the sentiments of the impressionists that were part of the alternative salons in Paris. Fernanda Galvao is another artist whose paintings contain a fantastic vivacity for life, she paints unimagined forms with bold and rich colours and embraces landscapes of the unknown.
Other subversive salons formed in retaliation to the Académie such as Salon des Indépendants in 1884, and Salon d'Automne in 1903 which promoted the emergence of Fauvism and Cubism.
Geoff Uglow New Dawn, 2022
At TSIVRIKOS SHAKE, we were inspired by the concept of the salon as a space that invites a diversity of ideas and how it acts as a source of inspiration and innovation. In our fantastic gallery space in the heart of London, we will host an exhibition that triumphs diversity, spontaneity, and revolutionary ideas. The group of artists featured in our upcoming show are extraordinary individuals with unique practices and pioneers of their respective mediums. Their works will feature together allowing each distinctive artwork to act as a voice in conversation and collaboration.
Gary Komarin will be one of the featured artists, he paints with a deep connection to the tradition of modern painting whilst sustaining his individuality and personal voice. Through his technique and use of composition, Komarin creates illustrative maps of creativity and thought and invites a playful pensiveness. Piers Alsop, Hugo Lami, Svetlana Bogatcheva and Josh Rowell are also brilliant examples of unique voices in the contemporary art world - we are excited to be exhibiting works by these artists alongside those aforementioned in this article in our new group show. Between the 3rd and 31st of June, come and visit our Salon show and be part of the conversation.
Gary Komarin Big Pink, Luxor, 2020
Find more details about the show and exhibited artists on our website.
● https://www.widewalls.ch/magazine/francois-gautret-interview, March 23, 2021, Elena Martinique
● Dena Goodman, The Republic of Letters: a Cultural History of the French Enlightenment (Ithaca:Cornell University Press, 1994), p. 14.
● The Salonnières and the Philosophes in Old Regime France: The Authority of AestheticJudgement, Jolanta T. Pekacz, Journal of the History of Ideas, Vol. 60, No. 2 (Apr., 1999)