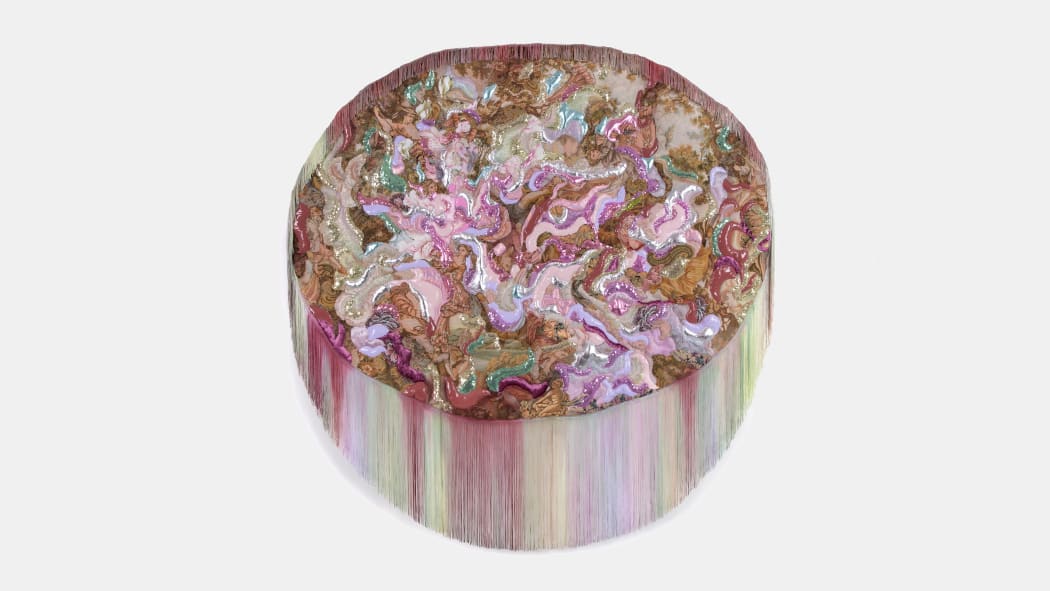 A Stitch in the Fabric of Textile History
With the evolution of textiles, England eventually became one of the prominent sources of great craftsmanship in textiles and embroidery. The great period of Opus Anglicanum in the 13th century was an esteemed technique that originated in England and was exported all over Europe, it was highly desired because of its exquisite craftsmanship and use of silk, gold and silver thread. The most comprehensive collection of Opus Anglicanum can be seen at the Victoria and Albert Museum in London. The textiles depicted religious iconography and would be mainly sought after by high-ranking priests. Opus Anglicanum is an example of exquisite technique and expression with textiles which, particularly at the time, was considered as artistically genuine as other practices such as painting and sculpture.
Following the Reformation in the early 1500's, the production of embroidery was no longer concentrated solely for the purpose of the Church. The art of embroidery increasingly became a domestic and personal practice - still executed with great skill, it became a symbol of status, wealth and power for royal and respected households. The growing connotations of domesticity and propriety surrounding embroidery made it a suitable activity for women to practice. Despite its being embedded in societal propriety, embroidery was a means of artistic expression and provided a space of communal sociability with other women.
With a steady increase in global trade, cultures around the world were being exposed to different techniques, materials, processes and technology. This introduction of new designs, dyes and fabrics fueled the exuberance of the 18th century Rococo style. Perhaps known as one of the most historically elaborate periods, the 18th century was characterised by extravagant embroidery, exotic dyes, and designs that featured a mixed influence of English, Chinese and Indian technique.

A Political Weave
Coinciding with the evolution and availability of materials and embroidery was the growing opinions surrounding the practice. These opinions were not solely confined to matters of taste or style, but also to the act of embroidery itself and how it affected the disposition and status of women. A contemporary example during the late 1700's was Mary Wollstonecraft, a writer and advocate of women's rights. She believed that women only embraced the constraints of femininity as a result of their subjugation and economic dependency. Embroidery was identified by her as a key construct of womanhood and believed that the practice was only used as a means of emphasising the embroiderer's femininity. An emphasis of one's femininity meant inviting fragility and greater suppression. This feminist thinking was also coupled with the growing distaste for the bourgeoisie, and embroidery was considered by Wollstonecraft and her contemporaries to be representative of absurd vanity and aristocratic decadence.
There is an evident tension between sexual politics and the art of textiles, it is one that continues to present day and remains present in modern art. Anni Albers is widely known as a pioneer of textile art, her works which she developed at the Bauhaus in the early 1900's are exceptional in regard to their aesthetic design as well as their engineered functionality. Despite her undoubted iconic status, Albers' expertise with textiles developed out of necessity as opposed to choice. Albers was predominantly interested in painting, however the Bauhaus encouraged women like herself to work in the textile workshops. Though Albers is now renowned for her work with textiles, her mastery is a result of working within imposed restrictions and pushing beyond them. This is perhaps a perfect demonstration of how the practice of textiles is not confining in itself, but that the stereotypes and connotations prescribed to women and the art of textiles is what is truly stifling.
Anni Albers, 'Black White Yellow' (1926/1965). Cotton and silk, 2032 x 1207 mm. © 2018 The Josef and Anni Albers Foundation / Artists Rights Society (ARS), New York
Louise Bourgeois began incorporating textiles into her practice in the latter part of her career in the late 90's. For Bourgeois, textiles and embroidery evoked powerful memories and she used the medium to navigate her own personal experiences as well as her relationship with her mother. She also believed that the needle was a tool that repaired and represented forgiveness. Perhaps unlike Anni Albers, Bourgeois chose to work with textiles and embroidery exactly because of its characteristics of femininity, domesticity and of personal life. The complex association with her own womanhood is therefore reflected, materialised and narrated by the complex politics of textiles and femininity. This tension between fine art, craft and femininity is one that Bourgeois is not able to reduce, instead she uses it to bring her personal experience as a woman into active and restless conversation.
Anne von Freyburg is an up-coming artist that has recently joined us at TSIVRIKOS SHAKE. Much like her precursors, Freyburg uses textiles to navigate her own perception of femininity. Her work acts as a response to the reductive associations pertaining to textile art and femininity, she does this by taking all of these tropes and completely embracing them, celebrating them with exuberant decoration and bodily designs.
The contents of Freyburg's works are vivid distortions of compositions from the Rococo period. The fragments of postures and petticoats twist into a loud and boisterous cry of feminine extravagance, it screams back at the historical subjugation afforded to women and the preconception of textiles being a 'lesser' form of art. The segments that make up her works appear bodily and assert a presence, they are visually pleasing and evoke a tantalising sensuality. Freyburg's indulgence in bold dyes, sequins and fringes also challenges the rejection of embellishment by Modernism which views decoration as excessive and frivolous. Femininity feels appetitive and assertive in Freyburg's work, it protrudes and glistens and demands attention.
Jean-Honoré Fragonard, Girl Holding a Dove, 1760
Anne von Freyburg, I Want Candy, 2021
As can be observed, there has existed a prevailing dichotomy of the politics surrounding textiles and femininity. On one hand textile work is used to embrace femininity, it provides a connection to the traditions and sentiments of womanhood; on the other hand, maintaining the view that femininity is representative of weakness and subjugation can lead to textiles being avoided or rejected to reach a different kind of empowerment. It is difficult to say if this tension will ever be dissolved, but it is certainly a point of contention that has brought important conversations to the forefront of contemporary art.
Perhaps in a way, a binding narrative is that textile work has become intrinsically linked to femininity. It has become a means of expression that is able to channel the complexity of a woman's experience in society.
Jeanette Durrant and Jan Miller, 'Embroidery through the ages', Costume and Textile Association 20th anniversary issue, (2009)
Sarah Randles, 'The Pattern of All Patience': Gender, Agency, and Emotions in Embroidery and Pattern Books in Early Modern England, Palgrave Macmillan, (2015)
Emily Gosling, 'Anni Albers, The "Designer's Artist" Who Put Women on the Grid', Eye on Design, (2019) https://eyeondesign.aiga.org/anni-albers-the-designers-artist-who-put-women-on-the-grid/
Rosie Lesso, 'Unfolding the Past: Louise Bourgeois' Fabric', (2021) https://blog.fabrics-store.com/2021/12/21/unfolding-the-past-louis-bourgeois-fabric/